Software Development & Architecture
·
Jönköping
Embedded software developer
We are now looking for an experienced Embedded Developer to join our team at Knowit Connectivity Jönköping! We have assignments and projects covering the whole range and we want to grow our team of developers. If your heart is in software development with a special itch for the challenges in the embedded software universe, then you will feel at home in our team.
About the role
Embedded software development is a broad knowledge domain ranging from C code in tiny microcontrollers to C++ code in the Linux operating system. This role includes creating maintainable, robust code, having efficient delivery pipelines, and using modern, team-based work methods. You will probably be involved in the entire development process, from requirements analysis, design, implementation and verification. In your assignment you will either work from our local office in central Jönköping or from the client's office. If you want to develop your skills together with us, we will provide a welcoming and open-hearted context for continuous learning and sharing.

Who are you?
To be successful in this role you should have a bachelor's or master's degree in computer science, IT or electrical engineering. You should have at least 3 years of experience within development of embedded systems and thereby have knowledge within the following areas:
Embedded systems
Excellent programming skills in C/C++
Real-time Operating System
You are comfortable in a Linux-environment
It is also meritorious if you have experience from requirements management, Go, Python, GIT or DevOps.
As a person you are curious and passionate about development and problem solving. In your daily work, you are structured and enjoy communicating with other people. You are therefore fluent in written and spoken English and preferably Swedish. You are a team player who is humble and receptive to feedback. As a good colleague, you think it is important to listen to others and share expertise in order to develop.
A condition for employment is that you have a work permit in Sweden.
Our offer to you
Knowit is a fast-paced, fun and inspiring workplace with great team spirit. We recruit employees who we believe can make a difference. Our priority is to always match you with assignments that interest and challenge you, where you can succeed, and we can help you continue to grow. During your first time with us, we offer you a good introduction into the organization as well as Innovation zone, which is the landing space before an assignment. We will also prepare you for your future assignments and offer you inspiring conversations where you get to know your new colleagues. In your future role with us, there are good opportunities in areas such as mentoring younger developers or taking on greater responsibility yourself.

At Knowit Jönköping we love to have fun during working hours and together we create a good atmosphere. We combine the work with learning activities such as book circles, coding events and discussion forums. Even outside of working hours, we value doing fun activities such as AW and events!
We also value a pleasant working environment, balance in life and good health among our employees. That's why you get access to flexitime, wellness benefits, the benefits portal Benify, collective agreements and a good insurance package with pension provision.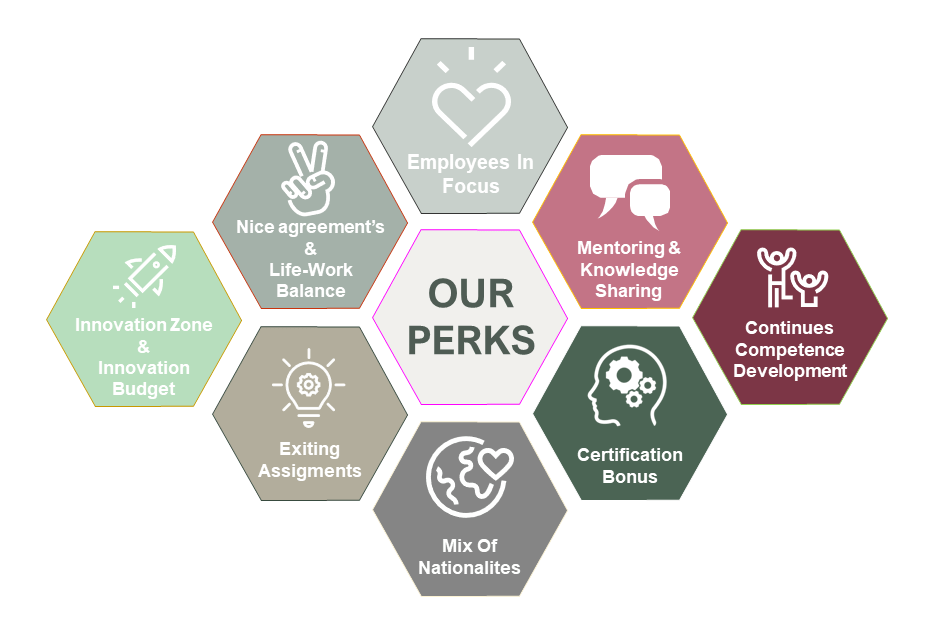 ---
Contact and application
Does this sound interesting to you? Don't hesitate to send your application today! If you have any questions regarding this position, you are welcome to contact us.
Responsible recruiter: Ebba Warrén at ebba.warren@knowit.se 076-1274821
Consultant manager: Erik Engvall erik.engvall@knowit.se 073-6405052
Looking forward to hear from you!  
---
About Knowit
Our vision is to create a sustainable and humane society through digitalization and innovation. Knowit supports its clients in the digital transformation and stands out among other consultancy firms through its decentralized organization and agile work methods in client assignments. The operations are divided into four business areas – Solutions, Experience, Connectivity, and Insight – which offer services in bespoke system development, digital customer experiences, the internet of things, cloud, cybersecurity, and management consultancy.


Areas of expertise

Software Development & Architecture

Roll

Embedded

Platser

Jönköping
Om Knowit Sweden
At Knowit we breathe development, both professional and personal. In our innovative and fast-moving environment, we see that development takes place in the meeting between responsible leaders and coworkers. Our different abilities and perspectives empower us to challenge our customers and in close collaboration build better digital solutions. With over 4,000 digitalization consultants in six countries, we enable a sustainable development of our society. We are makers of a sustainable future.
Software Development & Architecture
·
Jönköping
Embedded software developer
Läser in ansökningsformuläret
Jobbar du redan på Knowit Sweden?
Hjälp till i rekryteringen och hitta din framtida kollega.