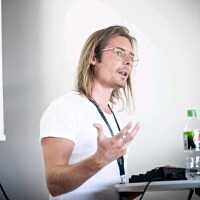 Sebastian Larsson
Competence Team Lead – Software Development & Architecture
Sebastian Larsson is an aspiring software craftsman, trainer and speaker, who works as Competence Team lead. He specializes in software development techniques such as TDD, refactoring, legacy code and software design. 
Sebastian is a certified trainer within Test Driven Development and has also authored articles relating to TDD for magazines (Agile Record).

Sebastian has been a speaker at conferences such as XP 2018 Porto ,Agile Scandia 2016 ,Devlin 2015, XP2015 Helsinki, Socrates UK 2015, SocratesUK 2014, Devcon 2013 and many other events.
As a Competence Team Lead, Sebastian works with employee engagement and support consultants in career growth and competence development. Being skilled in what you do makes work even more satisfying.